Town of Jerusalem
MUNICIPAL SEWER & WATER
Keuka Park Sewer & Water
KEUKA PARK SEWER & WATER CLERK
Ginny Fenton
Email: KPSW@jerusalem-ny.org
Telephone: 315-595-6657
Fax: 315-305-3507
OFFICE HOURS
Monday - Friday
7:30 A.M. - 3:30 P.M.
Sewer & Water Online Account Payments » CLICK HERE
---
POTENTIAL SEWER SYSTEM EXPANSION SURVEY
The Town of Jerusalem is considering possible expansion of the sewage collection system as shown on the "Keuka Park Sewer District Existing and Proposed Service Areas map".
If you live or own property in or near the areas shown for possible expansion please click on the link Participate in the Survey to take the survey regarding the potential expansion of our sewage collection system. The results of this survey are non-binding and will be solely used to measure public interest and evaluate possible further action by the Town Board to advance the project.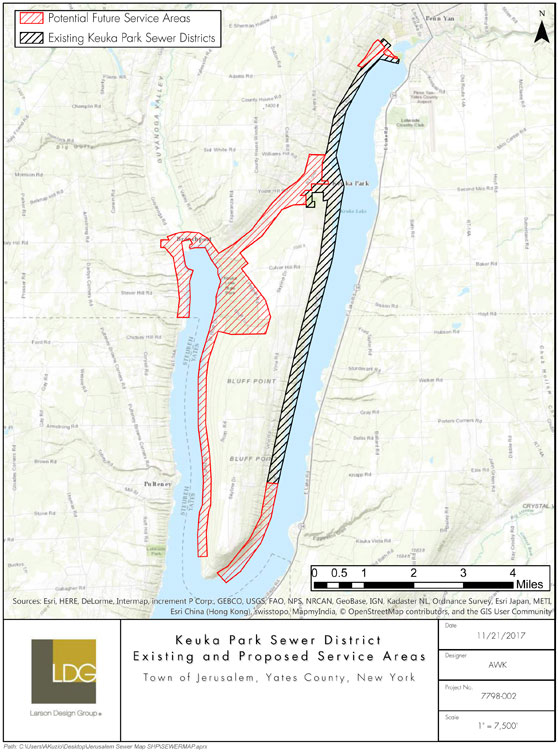 Download Full Size Service Areas Map
---
Water and sewer service billing
Water and sewer specifications, applications, permits, inspection requests
WATER AND SEWER PAYMENTS MUST BE POSTMARKED OR PAID IN
PERSON TO THE THE TOWN CLERK BY DUE DATE INDICATED ON BILL
TO AVOID PENALTY.
ANY OUTSTANDING BALANCES FOR WATER AND SEWER ACCOUNTS
NOT PAID IN FULL BY OCTOBER 15th OF ANY GIVEN YEAR WILL BE
RELEVIED ON THE TOWN AND COUNTY TAX BILL.
NON-MUNICIPAL SEPTIC SYSTEMS
Information regarding municipal water or sewer hookup
2017 KEUKA PARK SEWER APPLICATION
NO UNAUTHORIZED PERSON SHALL UNCOVER, MAKE ANY CONNECTIONS
WITH OR OPENING INTO, USE ALTER OR DISTURB ANY PUBLIC SEWER OR
APPURTENANCE THEREOF WITHOUT FIRST OBTAINING A WRITTEN PERMIT
FROM THE TOWN OF JERUSALEM.

2018 Annual Drinking Water Quality Report
2018 Keuka Park Water/Sewer Department Rate Schedule
2017 Application For Water Connection Permit
2018 Keuka Park Water/Sewer Department Fee Schedule
2018 Keuka Park Water District Equivalent Dwelling Unit (EDU) - Schedule Guideline
2009 Insurance requirements for obtaining a water and sewer permit
Attention: Keuka Park Sewer District #2 Customers
Pressure Sewer System Owners Guide
(4500-10119 East Bluff Drive Sewer Customers)
SAVE ON YOUR INSURANCE
If you have not done so, contact your insurance
agent and let them know that, as a customer of
Keuka Park Water, you have accessibility to a
fire hydrant.
This should have a favorable impact on the fire
rating of your home.